contact
Marloes Bomers
marloes bomers
Studio Meneer de Wit
Studio S6
Baarsjesweg 208
1057 XV Amsterdam

+ 31 6 303 26 301
marloesbo@marloesbomers.com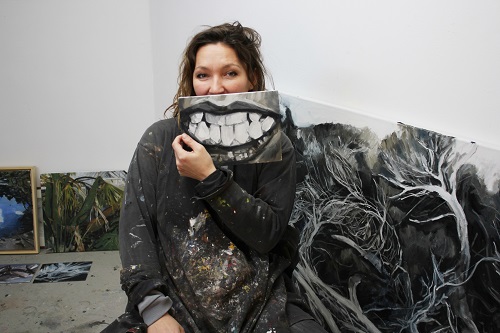 Marloes Bomers (1973 Acha Tugi, Cameroun)


Marloes currently lives and works in Amsterdam, the Netherlands.
She studied fine arts at the Academy of Arts in Utrecht (the Netherlands)
and at ' l'Accademia di belle Arti' in Bologna (Italy).
Marloes Bomers is a painter and also draws en works with ink, collage and mixed media.
She works from perception as well as from imagination.
In her work her feelings and thinking with both head and hands come together.
It comes forth out of her fascinations and wonder and she embraces serendipity. She looks for interesting and often whimsical forms
that can also represent other forms. She works in series where she starts figuratively with a subject to end up with more
abstract work by enlarging or reducing or by omitting more and more.
Virtual Exhibition

https://www.emstudiogallery.com/marloes-bomers/
Current & coming exhibitions
2021
Tekenkabinet 2021 (groupshow) | september (online august) | amstelpark 13 | Amsterdam
"Was ihr wollt", die Schau zum 1-jährigen Jubiläum der Goldwerk Galerie (groupshow) | Klostergarten | Rostock

2020
New Work | october 2,3,4 | EM studiogallery l Witte de Withstraat 2 Amsterdam
Tekenkabinet XS (groupshow) | june 1 - 28 | amstelpark 13 | Amsterdam

2019
Nastywomen exhibition Team Femke | dec 8 - 15 | De Balie | Amsterdam

Art The Hague - Popinnart (groupshow) | October 2- 6 | Fokker terminal | the Hague
Artwork selected for the Art Exhibition at Art The Hague - curated by Maurits van de Laar & Patty Wageman. | October 2- 6 | Fokker terminal | the Hague
Great artists steal – Popinnart (groupshow) | April 12-14 | Loods 6 | Amsterdam
Matter/Creatures | January 1-31 | OT301 | Amsterdam
2018
Artist in Residency | May 6 – 13 | Charolles, France
'PopinnArt' (group) | February – November 2018 | Amsterdam
New works | Meneerdewit | Amsterdam
2017
t Goed Rietberghe | June 4 | Zieuwent
Nasty Women Exhibition (group) | March 4 – 12 | Josilda da Conceição Gallery | Amsterdam
Art for Kika / Tom Voûte fonds charity exhibition (group) | January 27 – February 22 | Cloud Gallery | Amsterdam
2016
Urban Painters Project: Amsterdam | December 1-30 | Amstelkerk | Amsterdam
Landgoed Zonnestraal (Urban Painters) | May | Hilversum
Vondel CS en plein air (Urban Painters) | February 14 – March 14 | mediacafé Vondel CS | Amsterdam
Art for Refugees (group) | February 12 – 23 | Cloud Gallery | Amsterdam
Artwest 2016 | November 19 & 20 | De Hallen | Amsterdam
2015
Pintar Rapido (group) | July 11 & 12 | Chelsea Town Hall | London
Lichtspel (group) | November 21 & 22 van Houtenkerk |Weesp
Ascension show (group)| may 15 -17 | Meneerdewit | Amsterdam
White matter | OT301 Mixtree | March 1- 30 | Amsterdam
2014
The good Friday show (group) | April 18 -27 | Meneerdewit | Amsterdam
Out of the box | Fabricaat #1 | July 11 – september 31 | Nijmegen
Studio Libris | April 12 – June 1 | Arnhem
Bizon Caravan (group) | Tierrafino | April 4 & 5 | Amsterdam
Vibes | May 26 – June 26 | Amsterdam
2012
Meneer de Wit & Meneer Malasch (group)| Januari | Amsterdam'
2011
Meneer de Wit & Meneer Malasch (group) | September | Amsterdam